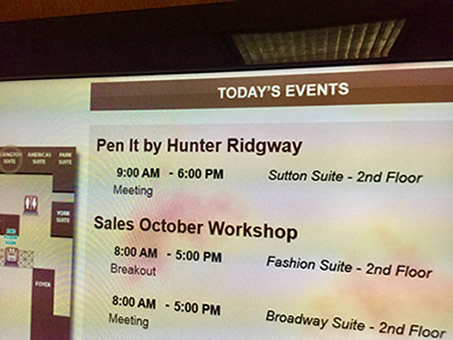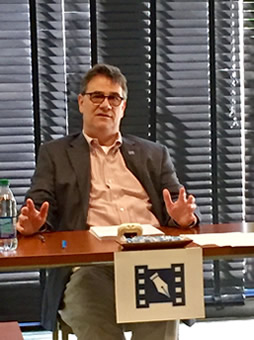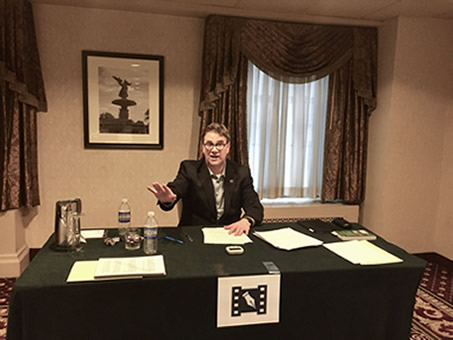 The way the one-day screenwriting classes typically work:
"Pen It by Hunter Ridgway" is the same in-depth, outlining-focused survey of fundamental and advanced elements of screenwriting in any/every location that the class is held. The class always covers a very broad spectrum of screenplay design principles and building blocks.
Participants should first take in the Assumption Document available on this website.  (The Assumption Document is an HTML web page that's MUCH SHORTER than the Class Outline pdf document.  The button link to the Assumption Document is located at the bottom left of the Home/Front page.)
Be aware that classes on different days/at different locations may start at different times. Check the website for the start time of your class. Classes typically start on time.
The morning session is about 2½ hours long, with a short break during that stretch. Teaching, questions, and discussion make up this session.

If you are deaf, blind, or unable to turn the pages of a class handout, please contact (or have someone on your behalf contact) administrator@penitbyhunterridgway.com before registering for a class.

There is a lunch period where participants head to nearby sandwich shops or restaurants.
The afternoon session is also about 2½ hours long (+ break). More lecturing, questions, and discussion — plus an in-class exercise.
After that, Hunter will take final questions until we're kicked out of our meeting room.
If the class is on a weekend day, some out-of-town visitors will plan sightseeing for the other weekend day. Some Pen It by Hunter Ridgway classes are scheduled with this in mind.